The
genesis
The idea from this H2K project came from discussions between Philippe Leuwers, CEO of TEXYS Group, and Michel Augizeau, Founder and General Manager of TECMAS until the end of 2021, an internationally reknown bike racing team. They both have the will to transform their passion for racing motorbikes into progress. Their inspiration will bring innovation to light mobility.
This project has been named H2K, for H2 Kompact, illustrating the key objectives of this concept: the development of a highly compact fuel cell hydrogen powertrain, with the best possible efficiency.
H2 MOTRONICS expresses the will to demonstrate its capacity in technical and innovative project management, in developing H2K, a proof of concept with a modern powertrain. The extreme constraints of a racing motorcycle will showcase both compacity and performance requirements.
Our
DNA
MINIATURISATION. EMBEDDED ELECTRONICS. COMPACITY.
TEXYS Group's DNA is rooted in Motorsport. The demanding expectations of such an environment has guided us to set natural objectives: to manufacture products at the highest level of quality, to offer exceptional responsiveness and flexibility.
Within the meticulous and complex world of embedded electronics, our enthusiasm to take on new challenges drives us to offer creative, enhanced, and bespoke technological solutions.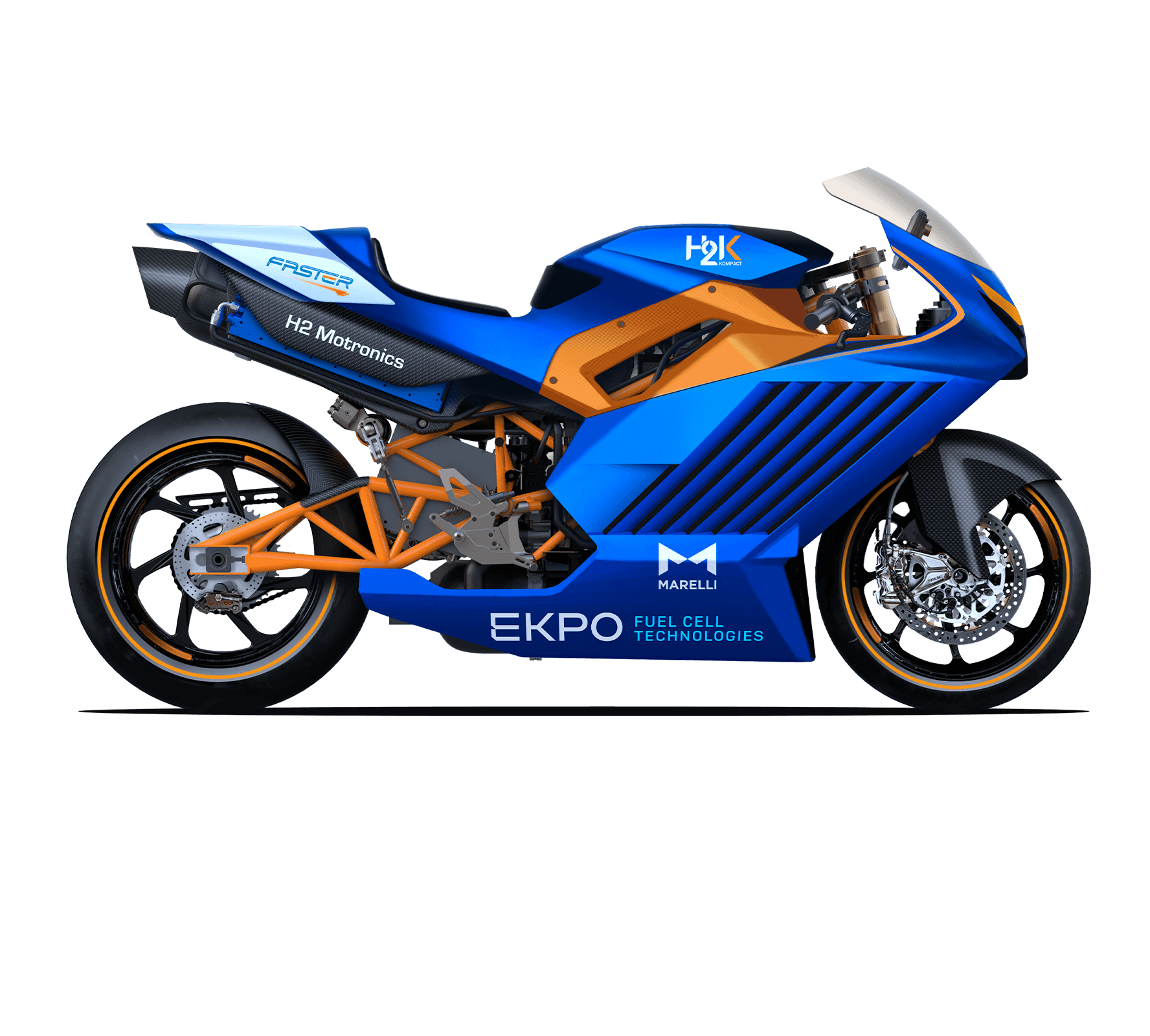 Our
objectives...
The main purpose of H2K is to showcase lightweight mobility powered by fuel cell hydrogen technology.
The H2K concept is the perfect combination of a light modern powered vehicle offering travel flexibility thanks to a compact powertrain, with zero-tailpipe emission.
The evolution of embedded measurement has been being driven over the years by compacity requirements for lighter components with increased performances.
This path has been successfully explored by TEXYS Group over the past 20 years of its expertise and developments.

... and the
applications
The potential applications of H2K powertrain are various types of mobility facing the same lightweight and compacity requirements, with an environmental responsibility in mind. The H2K powertrain concept is transferable to 2 & 4-wheeler urban vehicles, light marine applications, light recreational vehicles (off-road buggies, snowmobiles) and boat tenders. The platform of a high-performance motorbikes powered by hydrogen fuel cell will encompass all requirements for an efficient mobility: compact, lightweight, efficient and environmentally friendly.
The
performances
The final objective of this project is to demonstrate the performances and efficiency of the fuel cell hydrogen technology. A racing bike is the most constraining environment, with compacity and performances requirements.
This compact developed solution will be a starting point solution for light mobility whether on ground (2 or 4 wheels' urban vehicles), in the air (light aircrafts) or on sea (light boats or tenders) through:
Optimised ancillaries components for electric and hydrogen ecosystem,
A Fuel Cell device optimised for light vehicles,
An electronic management system (software & hardware) for hybrid powertrains,
The
performances
H2K concept will be the perfect alternative to the well-known ICE (internal combustion engine) powered racing bikes and internal combustion engine and the full electric concepts recently developed.
Mass and power have a huge effect on performance as we can observe in the existing motorbike racing series. Based on an extensive work started in October 2019, our simulations and engineering study can state the following :
H2K will be lighter than the full electric concept (approx. 20%) and will privilege agile and vehicule dynamics performances
>45 km of range will be achievable with 1-1.5 kg of embedded hydrogen
Laptime performances* will be close to Moto 3™ (4-stroke 1 cyl. 250cc ICE powered)
| | |
| --- | --- |
| Powertrain type | Serial Hybrid Fuel Cell Hydrogen |
| Total max. power (in kW) | Up to 100 |
| Fuel cell stack | EKPO NM5 Evo (335 cells) |
| Embedded H2 mass (in kg) | 1.5 kg @ 70 Mpa or 0,82 kg @ 35 Mpa |
| Battery system power (in kW) | 40 |
| Battery capacity (in kWh) | 0.8 |
| C-rate | Up to 50 |
| Max voltage battery system (in V) | 240 |
| E-motor output max torque (in Nm) | 230 |
| Vehicle Control Unit and dashboard | MARELLI VCU320 & FBO6 |
| Chassis & swing arm | Designed and manufactured by FASTER |
| Total race weight (without rider) in kg | 225 |
| Power to weight ratio (kW/kg) | 0.44 |
| Range in race use (in km) * | Up to 45 |
| Nr of laps * | 11 |
| Laptime (in sec.) * | 98.7 |
| Total race time * | 18' |
| Top Speed in Km/h * | 237 |
* Simulations and calculations based on a typical circuit layout such as Valencia, Circuit Ricardo Tormo.
Our
partners
H2K is a project labelled by Pôle Véhicule du Futur, one of the leading automotive clusters in Europe, federating industrials and research units in the field of future vehicles and mobility.
Discover our partners !
Our technology providers
And our technical suppliers
Texys Group
H2 Motronics is a subsidiary of TEXYS Group.
TEXYS was founded 20 years ago by Etienne Deméocq (former Head of Electronics of the Ligier Formula 1™ team, later Prost Grand Prix), and has been developed across the globe over the years with his business partner Philippe Leuwers. TEXYS is now one of the leading manufacturers of electronic sensing devices.
At TEXYS we design, develop, manufacture and trade our wide range of TEXENSE® sensors for embedded measurement and monitoring (pressures, loads, temperatures, speeds, inertias) and we are globally recognised as experts in different technologies (infrared, optical fibre, strain gauging, wireless communication, signal conditioning).
Our products and services are widely used and relied upon in various industries: Motorsport (from junior series to major championships such as Formula 1™, NASCAR™, Indycar™, Moto GP™, World Endurance and Rally Championships), Aeronautics, Aerospace, Automotive Industry (Manufacturers, OEMs and Tier 1 Suppliers), Marine, and Railway.
Isatis Capital Isatis Capital is an independent management company created in 2013 by the direct fund management investor team of BNP Paribas Private Equity and approved by the Autorité des Marchés Financiers under number GP 13000026.
Specialized in the financing of French SMEs, profitable, innovative, exporting and growing, achieving between 5 and 100 million euros in turnover, we now manage more than 430 million euros and support around thirty of unlisted SMEs to transform them into mid-sized companies.
Active and long-term investors in the real economy, we contribute to the creation of sustainable value. We engage with companies that consider environmental, social and governance issues to be an integral part of their value and performance. Bpifrance

Bpifrance finances and supports companies - at each stage of their development - with loans, guarantees, innovation support and equity. In doing so, Bpifrance acts in support of public policies conducted by the State and the Regions.
Bpifrance supports them in their development, ecological and energy transition, innovation and international projects.
Bpifrance also provides export financing in the name and on behalf of the State. Bpifrance offers, in conjunction with recognized consulting firms and training organizations, support solutions adapted to start-ups, micro-businesses, SMEs and mid-cap companies. Thanks to Bpifrance and its 50 regional offices, entrepreneurs benefit from a close and efficient contact to support them in the sustainable growth of their activity.

Région Bourgogne Franche Comté The Bourgogne-Franche-Comté region actively contributes to meeting the challenge of ecological and energy transition. It is committed with dedicated funding of up to 90 million euros and a roadmap built and shared with all players in the Hydrogen ecosystem (companies, laboratories, clusters, etc.).
The presence in the territory of an industrial network specializing in the transformation of metals and materials, and expertise in surface treatment are valuable assets to ensure the complete manufacture of the hydrogen systems of tomorrow.

The manufacture of metal pipes, polymer membranes, valves, sensors, surface treatment, microtechnology, are all skills available to the region and which make it a territory of the future for Hydrogen and the environment of Fuel cells that will be manufactured tomorrow. FFM

Delegate of the Ministry in charge of Sports since 1945, member of FIM and FIM Europe, the FFM (Fédération Française de Motocyclisme) plays a leading role in the organization and development of motorcycle sport in France.
Made up of thousands of passionate volunteers in the field, the FFM can count on a unique network of associations to pursue the objectives and the common project of promoting the motorcycle universe in all its forms in France. Our technology

providers


EKPO Fuel Cell Technologies

The newly founded joint venture EKPO Fuel Cell Technologies is a full-service supplier of fuel cell stacks and components. Their technology, applications, and products for fuel cells are based on expertise of more than two decades. ElringKlinger and Plastic Omnium combined have been in business for more than 200 years. EKPO will supply the state-of-the art H2K Fuel Cell stack of H2K. Our technology

providers


MARELLI

MARELLI is one of the world's leading global independent suppliers to the automotive sector.
With a strong and established track record in innovation and manufacturing excellence, MARELLI's mission is to transform the future of mobility through working with customers and partners to create a safer, greener and better-connected world. Our technical

suppliers


ORECA Magny-Cours

ORECA Magny-Cours is the engine division of the ORECA Group.
In a perpetual concern for modernity and in its quest for innovative projects, ORECA Magny-Cours, one of the key actors in engine developments, upgraded recently ing one of its test cells in order to welcome from the end of the first quarter of 2022, hydrogen technology project.
The final steps of the development campaign on H2K powertrain are carried out into this new test cell.

Our technical

partners


FC LAB

This technical and scientific resource center is dedicated to Hydrogen Energy systems and in particular to fuel cell systems. FCLab brings together the research activities of Franche-Comté in this field and of five laboratories in neighboring regions.
Among all its objectives, the FCLab provides within a single structure all the skills required for the development of fuel cell systems, from their development to their coupling / integration into real devices. It also supports current developments towards the use of experimental platforms for testing, in particular the durability of energy sources intended for electric and hybrid vehicles.

Our technical

suppliers


FASTER

Founded in 1984, FASTER has put its skills and knowledge learnt from competition to the service of the automotive industry since the 90s.
Whether for communication or development needs, FASTER designs and produces all or part of prototypes in the strictest confidentiality.
Over time, FASTER has been able to adapt to new developments and requirements of the sector and has acquired real know-how, especially in electric vehicles. News


MONTBELIARD – November 8-9, 2022

The H2K motorbike made its first appearance at the Forum Hydrogen Business for Climate which took place in Montbéliard on November 8th and 9th, 2022.

The 450 participants of this 2nd edition of the Forum were able to see, touch, turn around the bike and appreciate this hydrogen technology gem.

After 3 years of development, H2 Motronics, a subsidiary of TEXYS Group, exhibited its technological innovation at this event organised by Pôle du Véhicule du Futur, who approved the H2K project at the early stages of its genesis.

The H2K project: a racing motorbike proof of concept powered by a hydrogen fuel cell, a real technological challenge. The extreme constraints of a racing motorbike highlight the need for compactness and performance. This compact concept will be a starting solution for light mobility for roads, rivers and skies.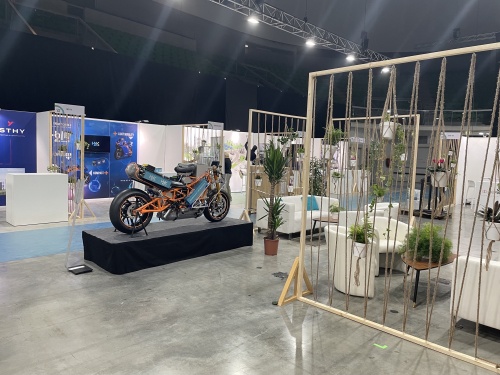 News


HYVOLUTION PARIS – February 1-2, 2023

The key event for hydrogen players in France and Europe.

H2 Motronics had the opportunity to present the H2K motorbike in partnership with the Bourgogne Franche-Comté Region. H2K found its unique place as a hydrogen fuel cell powered motorbike proof of concept among the major hydrogen players.

Many visitors and exhibitors came to salute the major technological challenge achieved by our H2 Motronics team, a subsidiary of Texys Group, which has been managing the project since 2019.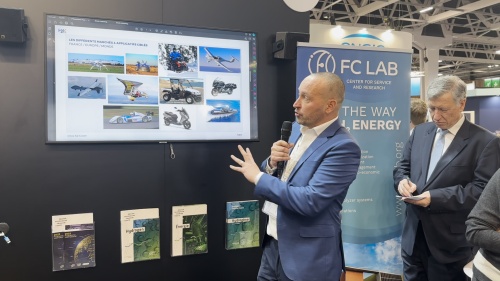 News


AUTOWORLD BRUSSELS – March 1st, 2023

Invited by Mariya Gabriel, the European Commissioner for Research and Innovation, H2 Motronics had the honour of exhibiting the H2K motorbike in Brussels, during the "Repowering the EU with Hydrogen Valleys" event.

This day, rich in conferences and exchanges between the various European players, demonstrated the dynamics of the hydrogen sector, which meets many current and future environmental challenges.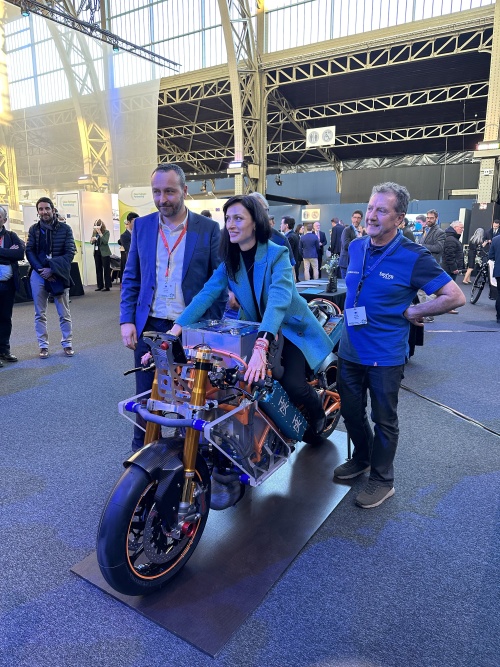 News


ZUKEN INNOVATION WORLD - MARCH 13, 2023

Texys Group was proud to showcase the H2-K project at the Zuken Innovation World conference in Paris.
Our Managing Director's presentation attracted a great deal of interest from the audience, both in terms of hydrogen fuel cell technology
and the project's roadmap, which focuses on light mobility.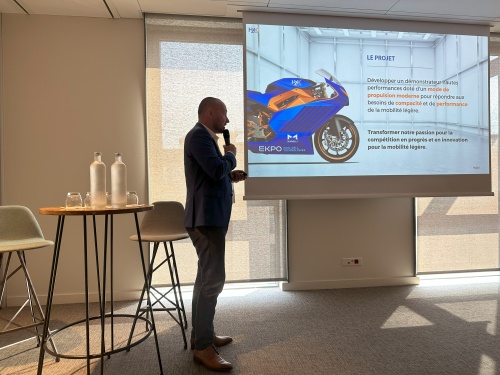 Contact
us
H2 Motronics
7 bis rue du 13E de ligne
58000 NEVERS
FRANCE